At Self-Heal School we've had the pleasure of teaching and adding to the community of herbalists in San Diego since 1985.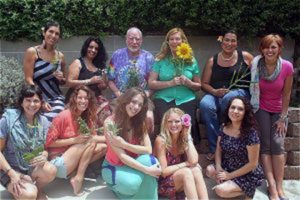 Whether you want to take one class or a certificate program, you will enjoy a fun and relaxed learning atmosphere, learning from expert teachers such as Jane Richmond, John Finch, and other guest teachers.
Our school class sizes are less than 30 students, allowing class participation and individual attention.
Certificate Programs
We currently offer the following Certificate Programs:
231 Hour Certificate
This program prepares students for a wide variety of careers in the field of herbal medicine. The core of this program includes:
Western herb theory
field identification
medicine making
herbal formulation
aromatherapy
holistic nutrition
energy healing
Pre-Clinical Training Certificate
7 month training including in depth studies of Materia Medica, case histories, and developing basic clinical skills to prepare the student for Clinical Training
Clinical Training Certificate
7 month training including seeing your own clients, managing their cases, and formulating herbal medicines and protocols under the supervision of Clinical Herbalist Jane Richmond
Electives
We augment our core programs with some fun and informative classes and workshops including:
Crystal Healing
Psychedelic Shamanism
Feng Shui
Chocolate Making
Creating Prosperity Consciousness
Elixirs of Love
Holiday Gift Making
Shamanic Drum Making and Blessing Ceremony
Starting a Business
Beer Making
Courses
We always have new classes starting and it is not necessary to enroll in a certificate program. Click here for the full list of current courses and workshops.
Graduates
We have had thousands of students over the years that have gone on to enjoy rewarding careers in clinical herbalism, making herbal medicines and natural products, owning and managing herb shops, wildcrafting and selling herbs, consulting, teaching, and other positions in the fast-growing herbal industry.
Call Now for a free consultation discussing how we can help you reach your educational goals.
(619) 224-1268
Self Healing

school
In addition to our classes, you may schedule an appointment with Jane Richmond for:
Holistic Health Consultation
Energy Healing
Aura Reading
Read more about Self-Healing with Jane>>
Holistic Health Consultations 
school
Herbal medicine is the use of plant remedies in the prevention and treatment of disease. It is one of the oldest forms of medicine and, from a global perspective, is still the most common form of medicine practiced today.
Our Products
Self-Heal Products are hand-crafted using only the highest quality all-natural and organic ingredients. View our online specials>>
If you have any comments or questions about our school or products, please contact us.
Other resources you may enjoy: