Herbal Fundamentals
Six-week online courses

One time offer




Lock Down Special!




Was $190   Now $90


7-9 pm Thursdays
starting April 9
NEW SECTION ADDED
10 am – 12 pm
Pacific Daylight Time
Saturdays starting April 18
When lock down is over
you will have the option
of coming to class
or continuing online.
Online classes will be recorded live
and available for review or
to make up a missed class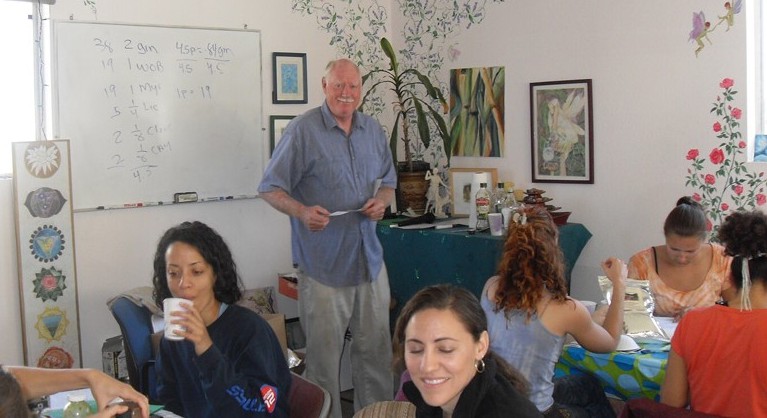 Do you learn more from practical demos and seeing how herbal medicines are actually made?

In this interactive course, you'll learn to use a variety of medicinal herbs to make herbal preparations.
John Finch has been teaching folks how to make herbal medicines for themselves, their friends and families for more than thirty years.
In our herb garden as well as the classroom and herbal apothecary, you'll discover herbs found growing in San Diego and around the world.
You'll learn basic Western herb theory, simpling, medicinal plant identification and more.
You will begin by meeting some herbs from the school herb garden as we identify them and speak of their uses in food and medicine.
We'll eat some and make tea with some.
You will also learn how to:
●  Acquire high-quality herbs and store them
●  Make medicinal teas: infusions, decoctions and cold water infusions
●  Extract herbs in alcohol, vinegar, and glycerine
●  Powder herbs and take them in capsules
●  Extract herbs in oils and make salves, balms, and emulsions (lotions and creams)
●  Use herbs externally in poultices, plasters, compresses, soaks and washes
●  Access great online reference materials
●  And much more in a casual and interactive environment
What folks are saying about this course:
John makes it fun to learn the basics of herbal medicine-making. My friends and family, as well as my co-workers, are all asking me to get Nervade for them. John rocks!  Peter M.
Don't pass up the opportunity to learn herbal medicine-making from this master medicine maker. Pat R.
My mom was suffering from insomnia and the tincture I learned to make in class has her sleeping and feeling better during the day. I highly recommend this course. Rebecca L.
The classes here are fun and informative. We meet one night a week and learn stuff our ancestors used to take care of their families. Most of the people in the world use herbal remedies as their primary medicine and now we are too! This is important training everyone should take.  Lanny T.
SECURE ONLINE REGISTRATION