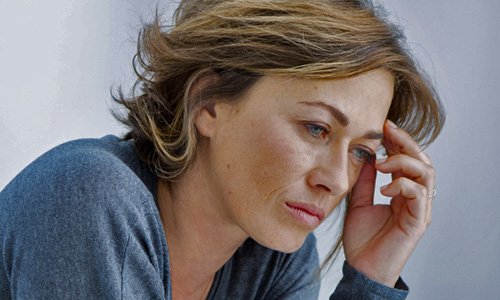 Canada's immigration website crashed on Tuesday night as the US election results were rolling in.
The top story on Business Insider has been how to move to Canada and become a Canadian citizen.
For those of us electing to stay and see what the future brings, there may be need of a safe and effective herb to treat depression.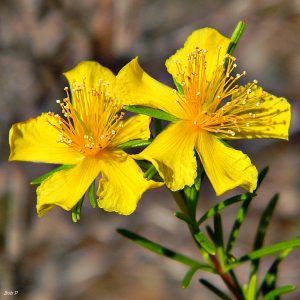 It has been said that the replacement of pharmaceutical
antidepressants with Saint John's Wort constitutes
"A significant milestone in psychiatric medicine."
Studies have supported the efficacy of St John's wort (Hypericum perforatum) as a treatment for depression in humans.
A 2015 meta-analysis review concluded that:
It has superior efficacy to placebo in treating depression
Is as effective as standard antidepressant pharmaceuticals for treating depression
Has fewer adverse effects than other antidepressants
This is a remedy which is by no means modern. Nor are its therapeutic applications limited to its antidepressant action.
We employ the fixed oil as an external remedy for healing wounds and inflammations, especially to damaged nerves. It has also been studied for its anti-viral activity.
Over an Apparition
The name Hypericum derives from the Greek meaning "over an apparition."
For centuries in Europe it has been hung above the door on the Summer Solstice to repel evil spirits.
Also known locally as Klamath Weed, it proliferates in wild abundance in disturbed areas in Northern California, as well as throughout the world.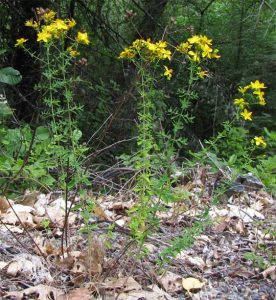 The Christianized common name of Saint John was bestowed by Benedictine monks in an attempt to discourage its pagan associations. The pagans took little notice.
The term wort refers to herb. In fact, when Merlin called a young (later to become King) Arthur "Wort," he was affectionately calling him herb or sprout.
Active Compounds
Much has been said about the active compounds in Saint John's Wort, the dianthrones and flavonoids, and especially one relatively unstable compound, hypericin.
What should be understood about Saint John'swort, and all herbs for that matter, is that although certain compounds seem to be primary in a plant's therapeutic application, it's the whole plant part, with all its components that must be seen as the healing agent.
If you were to study a surgeon in action, you might assume that the hands alone were performing the operation, since they would be the only part actively interacting with the patient. But without the eyes to guide the activity, and a consciousness to differentiate the actions, the random slicing and dicing would have little therapeutic advantage.
It is therefore highly questionable whether taking a plant isolate like hypericin offers any real benefit. When taking Saint John'swort, it is necessary to assure that the remedy is made from whole flowering tops.
Therapeutic Uses:
Europeans have been using a variety of Saint John's Wort products for the past fifty years to treat mild to moderate depression, restlessness, anxiety and/or nervous excitement.
Two million Britons are estimated to be taking it in capsule, tea, or liquid form.
The whole plant extract acts as a mood elevator, without impairing mental functions or the ability to operate equipment.
It is said to improve concentration and the ability to cope with life situations.
Making Medicine
The constituents may be extracted in hot water, oil and alcohol. Alcohol provides the most complete extraction. Since the compounds can be unstable, it is important to extract from fresh or recently dried material. Only organically grown plants or those harvested from the wild should be considered.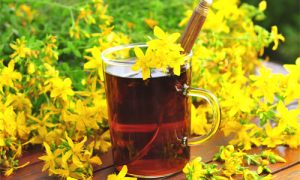 Typical Action
Although some people get an almost immediate response, it normally takes several weeks to begin to feel a noticeable effect. You should definitely experience something within four to six weeks.
Taking it concurrently with pharmaceuticals
Although some warnings against this have been issued, there is a good body of evidence that reducing pharmaceutical use, while taking the herb is both safe and effective. It is interesting to note that both the anti-viral and the mood elevating properties are augmented by sunbathing. These sessions should be relatively short, especially at first, since phototoxicity as manifested by blistering and ulceration can result from exposure while taking this herb.
Dosage
The published recommendation for achieving an antidepressant effect is 300 mg of a .3% hypericin preparation taken three times a day.
For most people, 40 drops of a liquid extract of the flowering tops (with leaves) taken three times a day provides a result.
If you are self-medicating with Saint John'swort (or any herb) it is advisable to start with a small dose (patch test) and adjust into the therapeutic dosage range slowly, while monitoring your experience.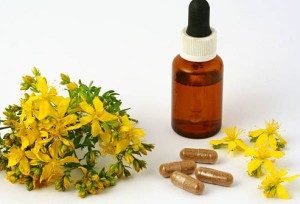 Cautions
Saint John'swort should not be taken by patients on blood-thinners or other anti-depressants as it can bring on strokes.
Remember that by self-medicating, you are taking responsibility for the consequences of your actions.