As the opioid epidemic worsens, people are desperate for natural pain relief options.  A local herb, wild lettuce has been used for millennia as a natural herbal pain reliever, and now survivalists are touting it as a form of morphine that grows in your backyard.
A house up the street from us has been being remodeled for the past year. The yard became overgrown with some of the local "weeds", including an interesting herb known as wild lettuce. 
Although is is abundant in San Diego, it is relatively expensive on the world market, costing up to $100 per pound. 
In half an hour I was able to carry off about four pounds. I bundled it and hung it under our deck, out of direct sunlight and out of the rain. It was dry in ten days and I now have hundreds of dollars worth of it. 
I placed some in a glass jar to extract in alcohol. I am storing the rest for use in tinctures, teas and other extracts.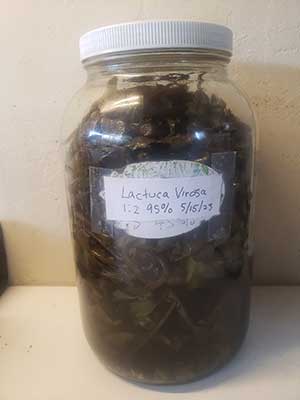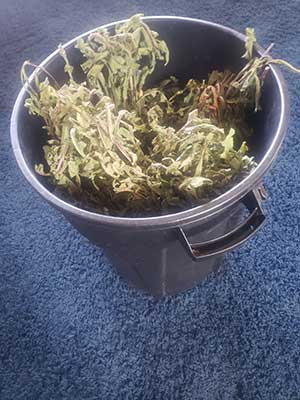 Wild Lettuce is a tall, leafy plant with small bright yellow flowers. Its scientific name is Lactuca virosa; in Latin, lactuca means "milky extract" and virosa means "toxic". As with many medicinal plants, there is a safe amount to take, but too much can have an adverse effect. 
Its best known medicinal properties are its mild sedative and pain reliever effects. The leaves and stems contain a milky substance that when dried hardens and turns brown, and is known as lactucarium, considered similar to Opium in its action, though it contains no actual opiates.
The pain relieving effects have earned wild lettuce the common name  "Opium Lettuce". In fact, the leaves were historically smoked as an alternative to using Opium in the 19th century where the industrial trade of Lactucarium flourished.
In its catalogue of medicinal plants published in 1917, the Servall Company asserted that wild lettuce was "highly esteemed to quiet coughing and allay nervous irritation, a good safe remedy to produce sleep, to be used when opium and other narcotics are objectionable". 
This was written at a time when opium and cocaine could still be obtained over the counter.
Today it is considered a safe and natural alternative to synthetic sedatives and pain relievers making it a good choice for those looking for a natural and sustainable health product. 
We have a great story about using Wild Lettuce for pain relief. Jane and I attended a retreat in the mountains but Jane was suffering from a really sore hip. I had brought some dried leaves that I had picked in our alley and I convinced Jane to try vaping it. 
She did so and was pain free for several hours. 
She hadn't vaped anything previously and hasn't since but was happily surprised how well it worked!
Its analgesic and spasmolytic properties make Wild Lettuce a tranquilizer. It contains compounds which studies have shown to help with asthma, cough, insomnia, headaches, pain, sore muscles and menstrual problems.
Wild Lettuce Preparations
Wild lettuce leaf can be used to make a tea, which has a bitter taste that can be sweetened with honey or other natural sweeteners. 
It can also be added to bathwater to promote relaxation and soothe sore muscles and joints.
Powdered components of the herb have been used for external use and it is still used for making a lotion for the skin to relieve sunburn and roughness.
Wild lettuce is a natural remedy that promotes relaxation, reduces discomfort, and supports healthy sleep. It is easy to use, safe, and free from synthetic additives. Whether you are looking to unwind after a long day or reduce pain and discomfort, wild lettuce is an excellent alternative to pharmaceuticals drugs.