Seabuckthorn Oil, Hippophae rhamnoides (hip-POH-fay ram-NOY-deez) is a deciduous shrub. It ranges from Europe, including Britain, from Norway south and east to Spain and Asia to Japan and the Himalayas.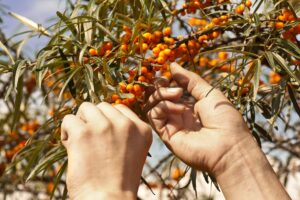 It has been recognized for centuries in Eurasia for its exceptional medicinal and nutritional properties. The berries are rich in vitamins and nutrients.
They appear to be an unsurpassed natural source of vitamins A and E, carotenoids and flavonoids and are second only to Rose hips and Acerola in vitamin C content.
They are also rich in several other vitamins, including B1, B2, K and P as well as in more than two dozen microelements.
Seabuckthorn Berry Oil and Seabuckthorn Seed Oil both possess nourishing, revitalizing, and restorative properties.
The Berry Oil is a beneficial ingredient in formulations intended for:
acne
dermatitis
irritated or dry skin
eczema
skin ulcers
postpartum pigmentation
burns
scalds
cuts
The stimulation of tissue regeneration is helpful in the treatment of:
burns
bedsores
poorly healing wounds
the damaging effects of solar radiation
It can effectively combat wrinkles, dryness and other symptoms of malnourished or prematurely aging skin.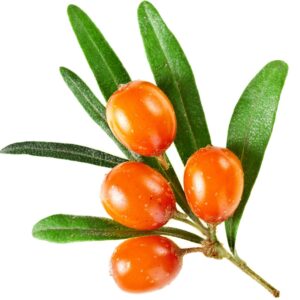 The restorative action of Seabuckthorn Oil may be partially due to the high content of essential fatty acids, carotenes, tocopherols and phytosterols, all important for the maintenance of healthy skin.
The essential fatty acid content of Seabuckthorn Berry Oil is 80 – 95%, notably oleic and linoleic acids.
Taken internally, it can help:
prevent gums from bleeding
recuperate mucous membranes
heal peptic and duodenal ulcers
aid urinary tract and cervical erosion
The oil can be used to treat solar and cancer radiation injuries.
Russian cosmonauts have used it for protection against radiation burns in space.
I teach folks how to make a great after-sun cream with essential and fixed oils beneficial for treating sun and wind burn that includes:
Seabuckthorn Seed Oil
Rosehip seed Oil
Vitamin E Oil
Lavender essential oil
Tea tree essential oil
Chamomile essential oil
Seabuckthorn Seed oil and the Berry Oil are generally available at health food stores as well as on the internet and is reasonably inexpensive considering the small amount necessary to include in your preparations.
One thing to note is that it is orange in color, the color of the fruit, and it can make your preparation as well as your skin a bit orange.