I have been practicing herbal medicine since 1979 and teaching it since 1985. That year I tore my Anterior Cruciate Ligament (ACL) playing basketball.
I went to an MD friend who was a practicing herbalist who recommended treating it with a hot herbal compress, rather than surgery, the traditional approach in allopathic medicine.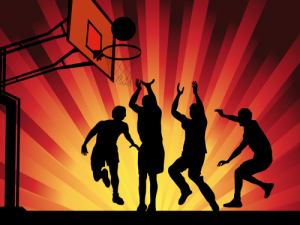 Long story short, I was playing full-court hoops again in six weeks!
Self-Heal Balm
As I was sharing in an herb class about hot compresses with castor oil, a student suggested extracting the herbs I had used on my knee in castor oil.
I dreamed that night about doing so, including some other therapeutics I had learned about in my Professional Training Program that included a combination of fixed and essential oils.
The next day I whipped up a test batch of what became known as Self-Heal Balm.
New Improved!
In 2014 I began to incorporate an amazing natural compound, dimethyl sulfoxide (DMSO) in the balm and it became much more effective.
Four years later, as CBD became reasonably priced, I added it as a concentrated isolate and it became even more effective.
Self-Heal Balm now had DMSO and 250 mg CBD isolate and the reviews have been stunning.
Recently I have made a "super balm" with DMSO and 700 mg full-spectrum CBD, finding that as effective as CBD isolate is, studies have shown that, like other herbal remedies, using all of the thousands of compounds in a plant part yields better results, without the undesirable "side effects" often experienced with concentrated isolates employed in pharmaceutical drugs, many of which are still isolated from medicinal plants, or those compounds made in a laboratory, rather than the plant itself.
What is full-spectrum CBD?
The cannabis plant contains many types of beneficial compounds.
Cannabinoids and terpenoids in cannabis are thought to interact with each other, as well as with receptors in the brain.
This interaction has been labeled "the entourage effect."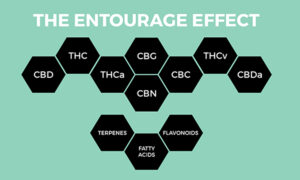 Studies show that the entourage effect makes taking THC and CBD together more effective than either alone.
There is evidence that non-THC cannabinoids have some neurochemical action as they can affect—often in different ways—cannabinoid receptors in the central nervous system. The most commonly cited example is CBD.
A number of scientists believe CBD actually mitigates the famously stoning and paranoia-producing effects of THC by blocking some cannabinoid receptors.
"The biggest influence [in the entourage effect] is CBD," says psychopharmacologist Ethan Russo, a cannabis researcher in Washington State and medical director of a biochemical research company.
About 10 milligrams of THC can potentially cause toxic psychosis—or THC-induced, psychotic-like symptoms such as delusions—in about 40 percent of people, he says.
On the other hand, Sativex—a multiple sclerosis medication not approved in the U.S. that GW Pharmaceuticals (where Russo worked for many years) started selling in the U.K. in 2010—"has equal amounts of THC and CBD," he adds. "At amounts of 48 milligrams of THC, only four patients out of 250 exposures had this toxic psychosis. So this is a very important demonstration of this synergy," he says, noting other cannabinoids might have similar synergistic effects that have not been studied yet.
The entourage effect gained some ground in 2011 when Russo published a paper in the British Journal of Pharmacology reviewing the potential interactions between THC and various cannabinoids and terpenes.
'Uh…what were you saying?'
For example, he cites work suggesting alpha pinene—a terpene that gives some marijuana a fresh pine scent—might help preserve a molecule called acetylcholine, a neurotransmitter involved in learning and memory.
"So one main side effect of THC is short-term memory impairment," he says. "People go, 'Uh…what were you saying?'
That can be prevented if there's pinene in the cannabis."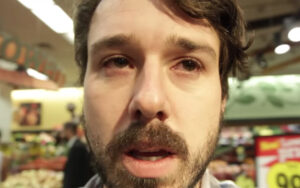 Advances in Pharmacology
A 2017 paper published in Advances in Pharmacology detailed the beneficial entourage effect of whole plant extracts of Cannabis:
"Of particular note is the ability of these aromatic compounds to contribute modulatory and therapeutic roles in the cannabis entourage far beyond expectations considering their modest concentrations in the plant."
"These conclusions are strong support for the use of full spectrum cannabis extract as a superior choice over single compounds such as CBD isolate."
Cannabinoids – Including CBD and THC, there are more than 100 cannabinoids responsible for the therapeutic effects of Cannabis sativa.
Terpenoids – Recent research has provided focus on the pharmacological contributions of more than 150 terpenoids in Cannabis sativa. Terpenes/terpenoids have a wide range of biological and pharmacological activities, for instance, antifungal, antiviral, anticancer, inti-inflammitory, antihyperglycemic, antiparacitic, anitoxidant, and antimicrobial.
Flavonoids – Cannabis includes about 20 different flavonoids that have shown to have anti-inflammatory, anti-cancer, and neuroprotective properties.
Our full-spectrum CBD is 85% CBD and includes small amounts of all extracted compounds in the flower, including .004% THC. Hemp-derived CBD products (with less than 0.3 percent THC) are legal on the federal level.
Other full-spectrum CBD products marketed online are offered at an average of $50 for a comparably sized jar with this much full-spectrum CBD.
The feedback received thus far has been outstanding.