Refreshing Nettles
When the weather heats up, we look to beverages for refreshment. Beer is often the beverage of choice. It is also a favorite during the winter holidays. And while commercial beer can present health risks because of the chemicals used in the process, herb beers have been a traditional part of folk medicine for generations.
In fact, herbs have been an integral component of the beer making process. Before hops were used, mugwort and other herbs imparted their slightly bitter flavor.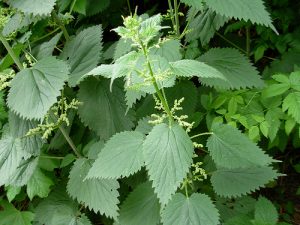 The number of micro brewery selections and folks brewing their own at home is on the rise. One herb brought to San Diego by Europeans for its many applications, including great herb beer, is Nettle (Uritca dioica), also known as nettles or stinging nettle for the sting imparted by the many sharp, hollow hairs adorning the whole plant. It can be found growing along stream banks and shaded areas of the county.
Mrs. M. Grieve, in her twentieth-century version of the medieval herbal, A Modern Herbal, first published in 1931, offers the following recipe for Nettle Beer. "The Nettle Beer made by cottagers is often given to their old folk as a remedy for gouty and rheumatic pains, but apart from this purpose it forms a pleasant drink.
How to make nettle beer
Take 2 gallons of cold water and a good pailful of washed young Nettle tops, add 3 or 4 large handsful of Dandelion, the same of Clivers (Goosegrass) [Cleavers], and 2 oz. of bruised, whole ginger.
Simmer gently for 40 minutes, then strain and stir in 2 teacupsful of organic raw sugar. When lukewarm place on the top a slice of toasted bread, spread with 1 oz. of compressed yeast, stirred till liquid with a teaspoonful of sugar.
Keep it fairly warm for 6 or 7 hours, then remove the scum and stir in a tablespoonful of cream of tartar. Bottle and tie the corks securely. The result is a specially wholesome sort of ginger beer.
The juice of 2 lemons may be substituted for the Dandelion and Clivers. Other herbs may be added to Nettles in the making of Herb Beer, such as Burdock, Meadowsweet and Horehound, the combination making a refreshing summer drink."
Nettle as food
Nettle has also been valued in cultures around the world as a delicious and nourishing food source. The tender, young spring leaves eaten raw in salads or cooked as a vegetable enrich the blood and nourish the nervous system. They contain Vitamins A, C and K, Calcium, Iron, Potassium, Formic Acid and Sulphur.
Nettle juice may be poured into ice cube trays and frozen to be stored and later thawed and drunk as an internal anti-inflammatory and nutritive tonic.
It is an excellent medicinal and nutritive tonic supporting overall health. Old herbals abound in recipes for Nettle, including Nettle Pudding and Nettle Porridge.
External application
When dried or steamed, the needle-like hairs lose their ability to impart a sting. The sting, sometimes applied by lashing with the plant, is a remedy for poor circulation and gouty joints. An antidote for the sting, which wears off after 24 hours, is the juice of Nettle, Yellow Dock, Rosemary, Mint or Sage.
Also finding use as a hair tonic and in the making of paper and cloth, Nettle may be considered as one of our most useful plants. Hikers along stream beds beware!